Making a Magical Pink Crystal Necklace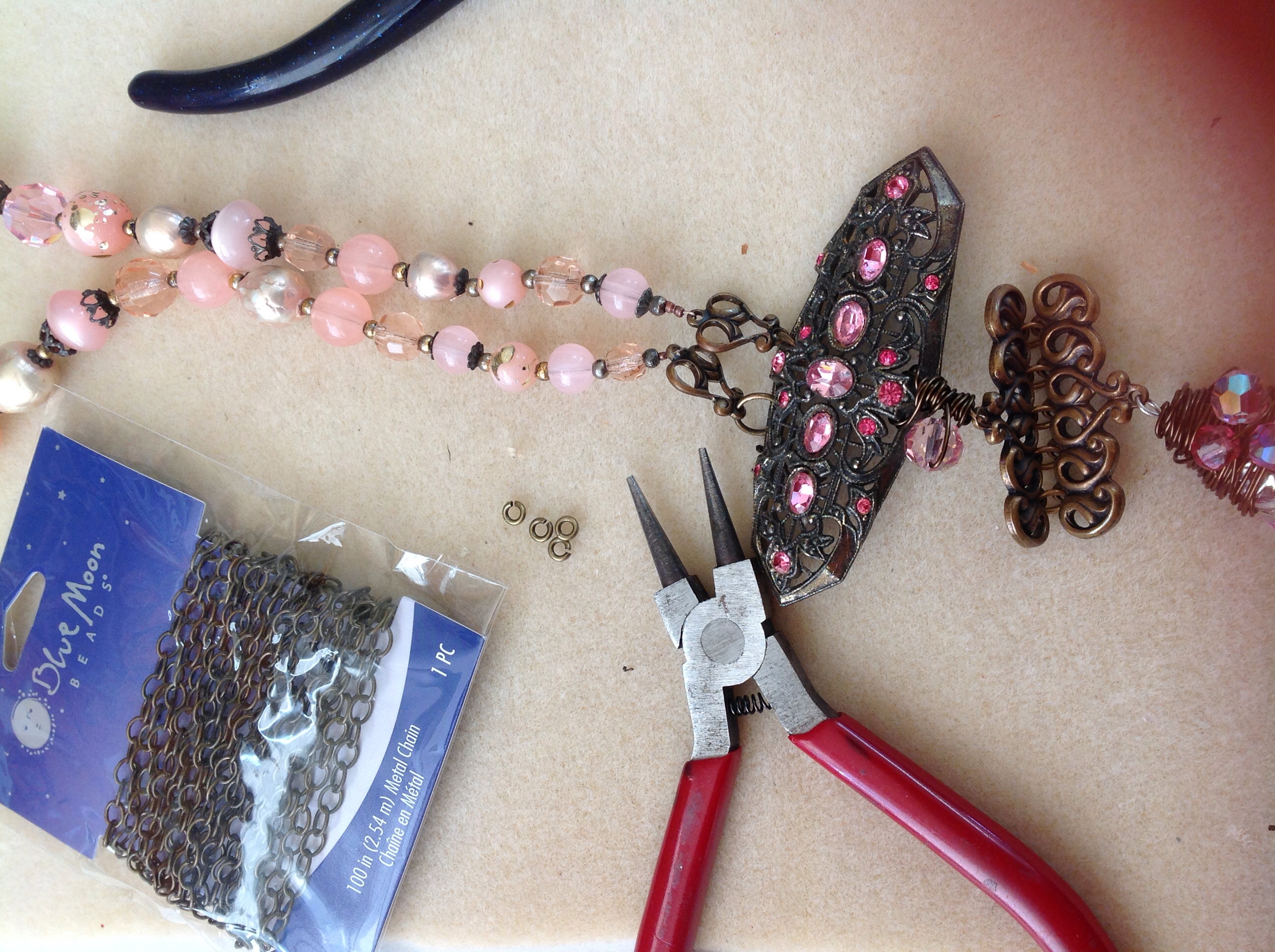 Once upon a time, I had a very magical visit to Louisiana. It started off with going to my daughter Jackie's college graduation from LSU and spending time with her and my two granddaughters, Kaylee age six and Farrah age ten. These are very magical ages for girls. They love Disney Princesses, fairies, and dress up. My kind of girls. Kaylee loves purple and Farrah loves blue. I love pink. We were all so anticipating the new Disney movie, "Maleficent" with the very magical Angelina Jolie. It was wonderful and she was wonderful in it. The girls and I made necklaces and bracelets on stretch cords and had a blast. When they come out to California I going to teach them how to make pendants and fairy pouches to keep their treasures safe and close to their hearts. They will always be my Fairy Princesses and I will aspire to always be their Fairy Grandmother.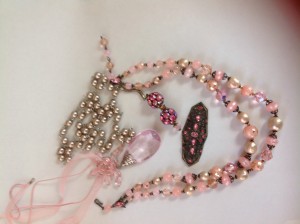 As I watched a few fairytale movies (Actually, a lot of them!) I began to notice that magical necklaces were longer. They make a statement. I have a tendency to make shorter necklaces that lay nicely in the bodice. I love to create jewelry to enhance the blouse or bring the focus of the outfit to the face. I never was fond of necklaces that nestle on the chest area. It brings unwanted attention to my boobs, which I could live without! But, a long necklace is dramatic. It elongates the body. They (I don't know they are?) call a long necklace an opera length necklace. This makes sense to me because opera is dramatic and over the top. Opera length necklaces can be layered with other necklaces and scarves to create even more drama. The perfect example of this was The Chanel Collection a few years back with all the long opera length pearl necklaces layered together. Fabulous..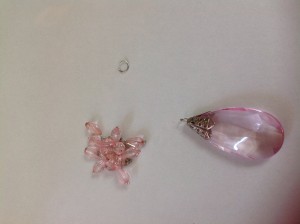 Well, I can't afford Chanel and will never buy a fake, so I say let's make our own magical necklace. Let's make a list of our supplies first. Any good Fairy knows that you have to get the potion right to create magic. The first question we need to ask ourselves is how long to make this necklace? I start with a piece of string tied around my neck and look in a full length mirror. Every princess has a full length mirror. Remember, there will be a pendant hanging on the bottom of the necklace and we don't want our pendant hanging in our crotch,! Not magical…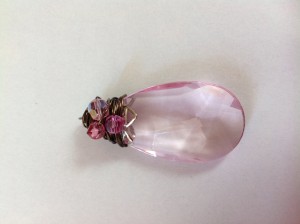 I like to start with the pendant because this is the focal point. Be brave. Teeny Tiny is not dramatic. Teeny Tiny is little. Little never got anyone anywhere, just ask Alice in Wonderland. I have some great pendants. Some of my favorites are actually chandalier crystals. I have gotten them at antique malls and at lamp stores. The pendant I am using in the project had been part of a keyring fob. I took it apart for the pink crystal. The fillagree cap was cheap and uninteresting so, I wrapped it with wire and added three crystal beads. It almost takes on a nest quality now. The next element I used was part of a hinged bracelet to hold the pendant. I bought the bracelet at the local thrift store. It was not difficult to take apart using my jewelry pliers. It probably would of been okay as a pendant focal point if I stopped here but I want MAGICAL! I buy vintage brooches when ever I see them. I never worry if the clasp is broken or if missing stones because I know I can find a use for them. Case in point, this brooch was missing it's clasp and it was the perfect pink with the pendant. Using wire I wired it to the bracelet hinge and added a pink crystal bead.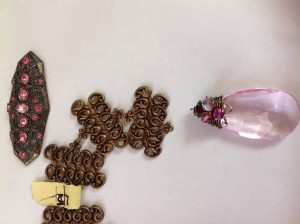 The necklace comes next. This is where our string comes in handy to make sure it is long enough. Don't comprise with drama. Use seed beads or spacer beads to get the length. The beads I am using here are also from the thrift store. These beads started out as a 1950's or 1960's double stranded choker perfect for church or lunch. Note: One strand is longer than the other so make sure you make adjustments that make the necklace hang straight, Crooked is not magical unless you are a witch! I attached the necklace to the pendant using o rings and parts of the brass bracelet. I used the original clasp, which was for a double strand necklace so I added chain to balance it off. I used chain from JoAnn's Craft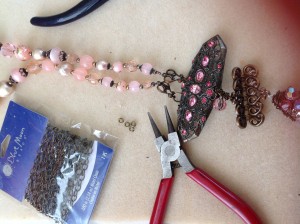 Store. I buy old chain necklaces from the thrift stores but I didn't have the right color of chain.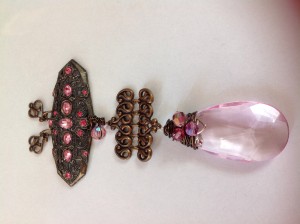 The spell is complete. A necklace worthy of Fairy Princess or a Fairy Grandmother. This Fairy Grandmother is going to wear her necklace with a Boho skirt and a long t-shirt or a pair of skinny jeans and long tunic top. Have fun. Be dramatic and find your inner princess and play dress up. And, She lived happily ever after….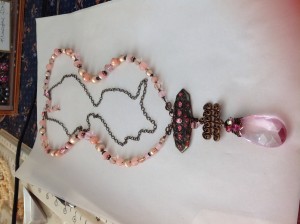 Please follow and like us:
---
---