Easter Decorating and Nonsense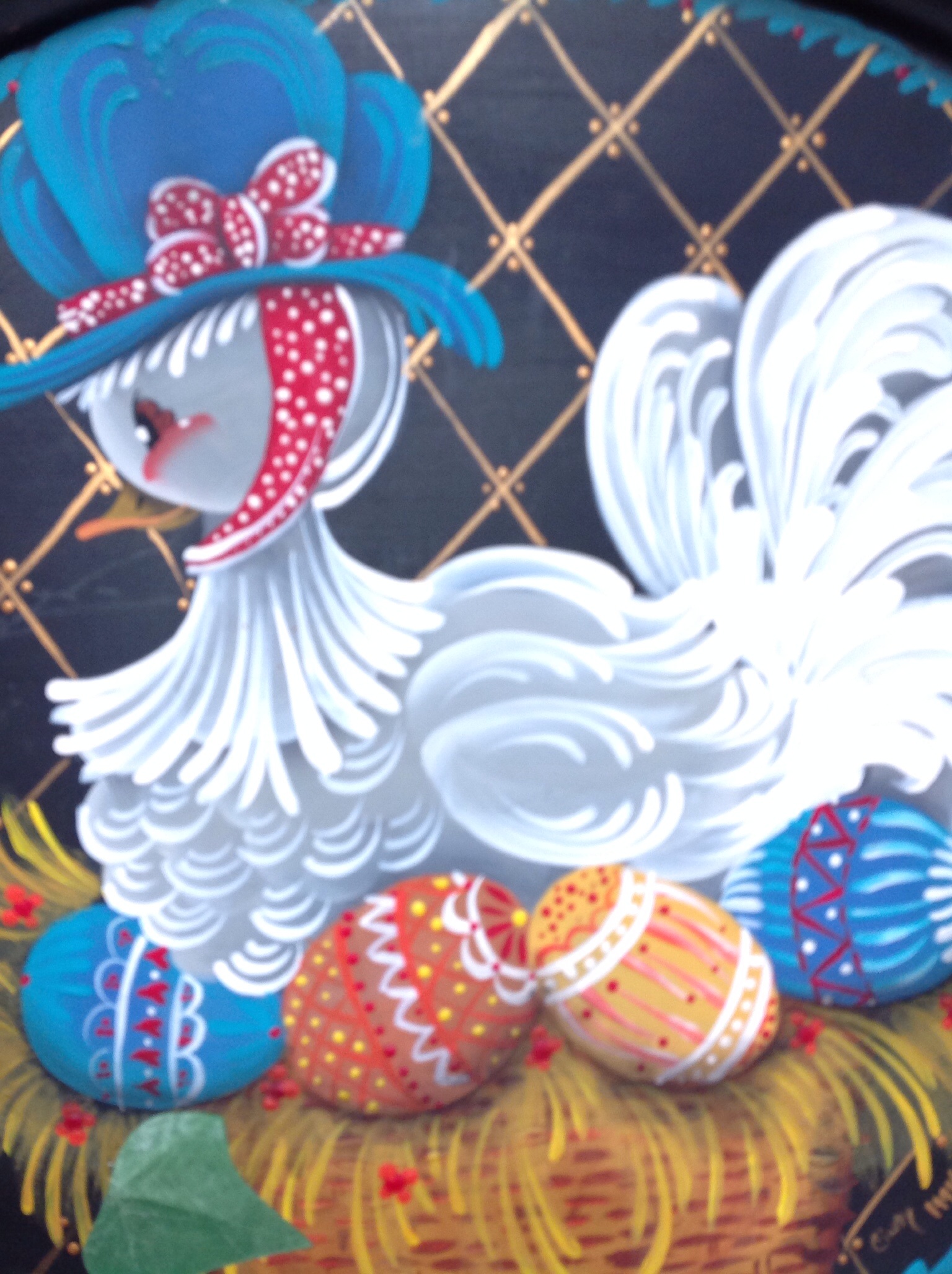 I have had a love affair with Easter my whole life. How is it possible not to love a holiday where you get a new dress and eat as much chocolate as you can? I am a child of the 1960's and Easter was very differently celebrated than it is now. We actually had fun on Easter. I know it is a religious holiday and we went to church on holidays. I am not proud of this fact but it is true. Our Easter actually started the week before when school let out for Easter Break. Easter Break was always the week before Easter.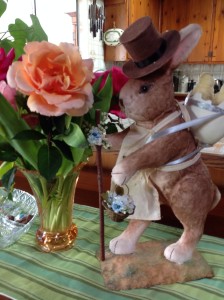 The last day of the holiday was Easter Sunday. Now, it is called Spring Break and every school celebrates it at a different time. It must be very difficult for parents to figure all of this out. It is bad enough to have to figure out when Easter falls on the calendar anyways! From my understanding, with a lot of help from Wikipedia, Easter is the first Sunday after the first full moon following the March Equinox. Sooooo, that means Easter will be somewhere between March 22 and April 25. In the world of retail we would like to put forth a fixed date like Thanksgiving and say the 3rd Sunday of April would be perfect!! We need a holiday in April. We have St. Patrick's Day in March. March does not need Easter… The kids were just out for President's Week in late February and so they really do not need a break yet! I really feel we were gypped as kids because we got President's Weekend not Week? Of course, this is now called Ski Week and has nothing to do with Washington and Lincoln. I digress!! Sorry!! Easter meant coloring eggs, Easter Egg Hunts, New Clothes, Easter Baskets filled with candy, watching Judy Garland in "The Easter Parade", Ham with Cloves, Deviled Eggs, and finally The Easter Bunny!!
Coloring Eggs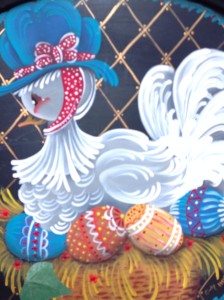 I love coloring and decorating eggs. I did this with my Mom and my Grandma Bernice and brother Brett. I carried this tradition on with my kids too. There are two types of colored eggs. The first is hard boiled eggs that are dyed and used in The Egg Hunt. Heaven knows why? Due to the fact is you do not find all the eggs they can stink to high heaven in a few days. The second type is the eggs that we blew out the raw egg and decorated them and hung them on a Easter Tree that was made out of a Manzanita branch jammed in a pot. My Mom would boil the eggs and let them cool. Mom bought a egg coloring kit that included color tablets and a wire holder and the box became the drying rack. She would make a different color in separate bowls using water, the color tablet and vinegar. Sounds simple enough. We would double dip to get different colors. Mostly, we ended up with some shade of gray from too much dipping. Sometimes the eggs were cracked and the dye bled on to the egg and my Mom used these eggs for Deviled Eggs. It never stopped anyone from eating them all up! The tree eggs were my favorite. It was hard work to blow out the eggs and we broke a lot of eggs too. but after they were colored my Grandma Bernice would bring over bits of lace and ribbons that she would have left over from her sewing projects and we would decorate the eggs and hang them from our Easter Tree. I have 4 precious eggs left from that time. I colored and decorated eggs with my kids too. I hope that they will decorate eggs with their kids too.
Easter Baskets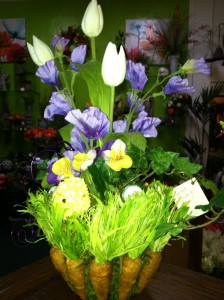 In our neighborhood growing up (Newport Beach), we had a Gilbert's 5 & Dime Store. At Easter they had ready made Easter Baskets. They were glorious to behold! The baskets were always on the top shelves where they were safe from little kids hands. We would go into Gilbert's and dream of having a store bought Easter Basket. They were so perfect. Wrapped in clear plastic with a huge blue, pink, yellow, or purple bow. Every kid dreamed of finding that Easter Basket with their name on it on Easter Morning. My younger brother Brett ruined every holiday fantasy figure for me including the Easter Bunny. So early on I knew it was my Mom who made our Easter Baskets. She recycled the baskets every year. It was hard to believe the Easter Bunny would bring the same basket every year. My Mom has a healthy no nonsense side to her. Our plastic eggs would be filled with underwear instead of jellybeans. She would give us paperback books instead chocolates galore. We always did get a solid chocolate bunny from See's Candy. My Grandma Bernice always brought a communal basket chock full of candy to make up for the underwear….
Easter Egg Hunt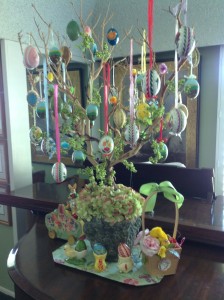 This was held at the park. Everyone contributed to the hunt. No one ever got sick except from eating too much candy. Everyone had fun. The youngest kids got a head start, followed by the next age group until everyone was running around grabbing eggs. My kids did the same thing. They had a blast too. These are important memories. I worry sometimes if we don't give our kids enough freedom just to be kids. Our parents let us eat whatever we wanted that day. The sun was always shining on Easter and the flowers were always blooming.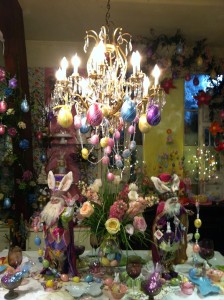 Easter Dinner
My Mom sets a beautiful table. If you can't set a beautiful table for our families, who is it for? I love a beautiful table. I am lucky that at my work I get to set many tables. Beautiful tables for every season but I love the tables that I set for my loved ones. As you all know I am a china freak. I love dishes. If I ever got to meet Martha Stewart, I would ask to see all of her dishes. Martha is a china freak too! My Easter dishes are Spode Aster which I mix with Duncan Miller fancy depression glass and a bunch of vintage accessories. I love to have bunnies and eggs on the table. Your table should tell a story, a love story for the people who sit around it. I love favors for everyone and I make them edible most of the time. I want to create memories as my Mom made for me and brother. I hope the tradition will continue with my kids. Just in case they forget we always eat ham, asparagus, scalloped potatoes, deviled eggs, jello salad (I love Jello!) and strawberry pie for dessert. Happy Easter.
PS Easter Grass
I always find Easter Grass at Christmas and Pine Needles at Easter. Funny huh??!!
Please follow and like us:
---
---