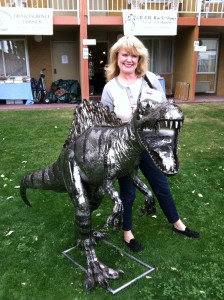 I am a head designer at a wonderful store in San Diego called Canterbury Gardens. In fact, it is the most beautiful store in San Diego. (I was going to say the world) I have been there for over 25 years. I have the kind of job that each day is different, each season is different but it is never boring. I wear lots of hats at the store. I do a lot of creative displays. With each season we change looks. At Christmas we have over 38 themed Christmas trees. I design special order arrangements, wreathes and holiday tablescapes.  I decorate a sleigh full of Christmas trees. I love to teach classes on floral design because it is fun to watch my students discover their inner artist. I assist my boss with buying when ever I have an opportunity and I love it! I also go out in the community and give talks about decorating throughout the year.
I  also have an antique booth in the Antique Warehouse in Solana Beach. My mother is the assistant manager and my mentor. We spend hours "junking" together and bring home our treasures to my husband Don. I love to repurpose thrift store finds into something wonderful with a lot of assistance from Don. And as all junkers know, it is the the thrill of the hunt.
I love to craft except sewing. Too precise I think. I sew with my glue gun! Can be painful just ask my 3 adult children about their Halloween costumes. I hope to take you on my artistic journey in my blog. Right now I have been obsessed with  beads and jewelry making. Fortunately, I have a patient family.