Italy Summer 2019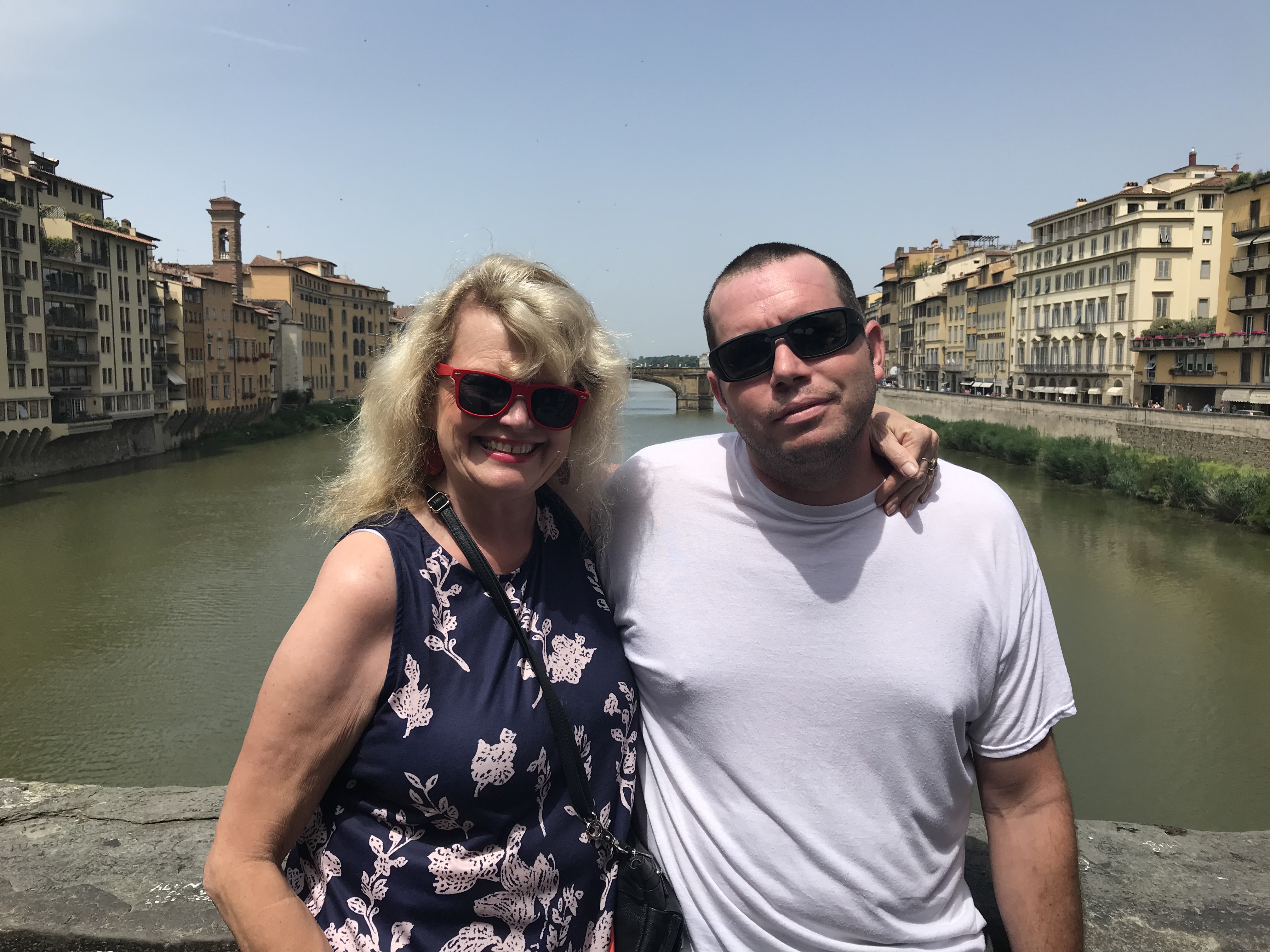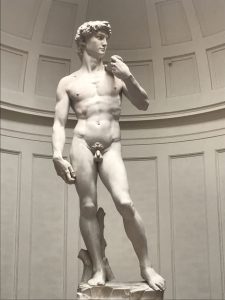 I went to Italy.
It was summer. Everyone says don't go in summer. It was hot. They are having a heatwave. The heat has been likened to hell. There were millions of tourists from everywhere. It was a sea of people. Everyone said learn a little Italian. I started my Duolingo Italian in the airport waiting for the plane to Rome. I packed badly. My clothes were too hot. In the end, none of this mattered, because I was in Italy!!  These are some of my experiences.
I was traveling with my son Jordan, his friends Phil and Colleen, their 6 year old daughter Vera, Phil's parents, Herlinda and Paul.. Yep!! 7 of us. That is a big group to get around. lots of times it meant 2 taxis!!  But it worked out. Flexibility and patience is the key to travel. Colleen planned everything and she did a great job. Traveling with kids is more challenging. Colleen found hotel camps that were outside the city a bit but they had swimming pools and playgrounds. Vera was a super trooper.
Florence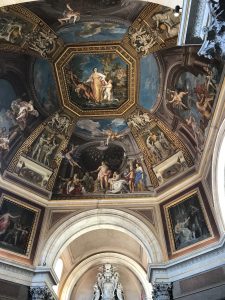 I loved Florence. It was as magical as I hoped it would be. There are fountains everywhere. No pumps, All powered by nature. You can drink the water everywhere. It is amazing. I would love to come Florence without an agenda and just wander. There are so many small piazzas with a fountain and beautiful buildings surrounding them. Standouts is seeing David. The Uffizi Gallery. Ponte Vecchio. Michelangelo Park at night. The Duomo. The Food. The Wine. The Gelato. The Florentine People. Colleen kept reminding me to look up.
Almost all the buildings were embellished with statuary or frescoes. I became obsessed with doors in Italy. The doors are so large and had gorgeous hardware. I found out later that the doors were so big because they had to big enough for a horse to pass thru. 500 years ago the stables were on the first floor of the homes in Italy. Florence is a walking city. Wear your most comfortable walking shoes. The streets are cobbled. Remember to look up!!
Tuscany
Colleen arranged lots of mini tours for us. They were interesting and varied. We started with a wine tour and ended with dinner in Siena. I would like to come back to Tuscany and explore the small walled cities. How they were able to keep Tuscany so charming and unspoiled is a miracle. Italian wine was enlightening. I always think of chianti. There is so much more. The wines are delicious and varied. A wine tour is a great place to start. Tuscans are known for their meat. I thought we had invented BBQ but I was wrong! The steak here was the best I ever had. Dinner in Siena was outside and delicious. Siena Cathedral at night is magical!
Sorrento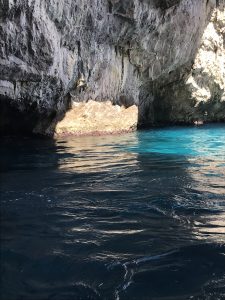 We traveled between the cities by train. The rail system in Italy is very efficient and cost effective. we took the train from Florence to Naples. We had a driver that took us to our hotel which was in Meta in Sorrento. It was also a small cabin in family hotel camp. With pools and play grounds. The view was fantastic. First up was Pompeii. Colleen had arranged a guide which was a godsend. It was extremely hot and it made it very efficient. We saw a lot and learned a lot.it was very worthwhile.
The roads are very picturesque but very narrow. We went to Positano and had lunch at the very top of the world. The Fatoria La Taguata. The food was amazing and view took our breath away. Then next day we went Capri. We went on a boat tour of Capri. It was us and 4 other girls. We went all around the island. We swam in the Mediterranean Sea. We went on a chairlift to the top Ana Capri. It was Jordan's and my favorite day in Italy. We did so much in Sorrento. I highly recommend the Amalfi Coast.
Rome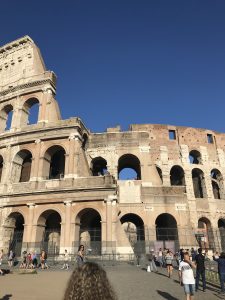 We returned to Rome on the train. Colleen upped our accommodations to luxury status. Which was delightful way to end our trip to Italy. We first visited the Coliseum.  It is in renovation right now so a lot of areas were not available to tour. it is hard to absorb how much history took place here. It was extremely crowded. We went to The Vatican. Saw everything we were supposed to see. Pretty amazing. Colleen told us that you can pay extra to have a breakfast ticket where you can enter 1 hour before everyone else.
When I come back to Rome that is what I want to do. The galleries at The Vatican were so crowded that it was impossible to walk across to see anything. I loved just walking in Rome. There are so piazzas with tratitorias, fountains, and a church. All the churches are so plain on the outside and so gorgeous on the inside. One evening Colleen and I stumbled upon street performers singing opera. It was pretty amazing
. The food is amazing. Follow Rick Steve's advise and get a little lost. Get off the tourist traps and eat in a restaurant that has a chalk board menu written in Italian. I pretty much ate what ever the waiter recommended and had great food. We drank a lot of wine in Italy. It was all fabulous. I really liked their house wines which they call fresh wine. We were lucky because it was the end of artichoke season and the beginning of mushroom season. The produce in Italy is amazing. I paid 9 euros for a large basket of black cherries the size of apricots. Best I ever had. It will be hard to eat cheese again after eating it here. Cheese is that good. I tried to eat gelato twice a day. Eat fruit flavors. Look for signs that say artisanal gelato. Strawberry gelato will change your life!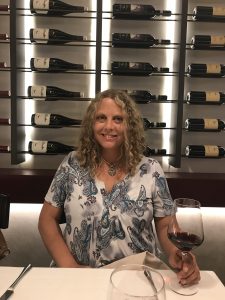 In  Closing
I now understand why Italy is so many peoples favorite place to visit. It is truly magical. I did an informal survey of Italians that I came in contact with and asked them when the best time to visit Italy. Many were hesitant to tell me because that is when Italians go on vacation but everyone seem to overwhelmingly agreed it was October. It is grape harvest season, the weather is mild and tourists have dramatically lessened. I hope to come back in October some day. Would I come back in the summer if chance came my way? Of course! I want to thank all my fellow travelers for making this such a memorable trip. A special thanks to Colleen MacKinnon for planning the trip and doing everything! I believe herding cats would have been easier.
Arrivederci,
Cindy
Please follow and like us:
---
---