The Antiques Roadshow Sails into Coronado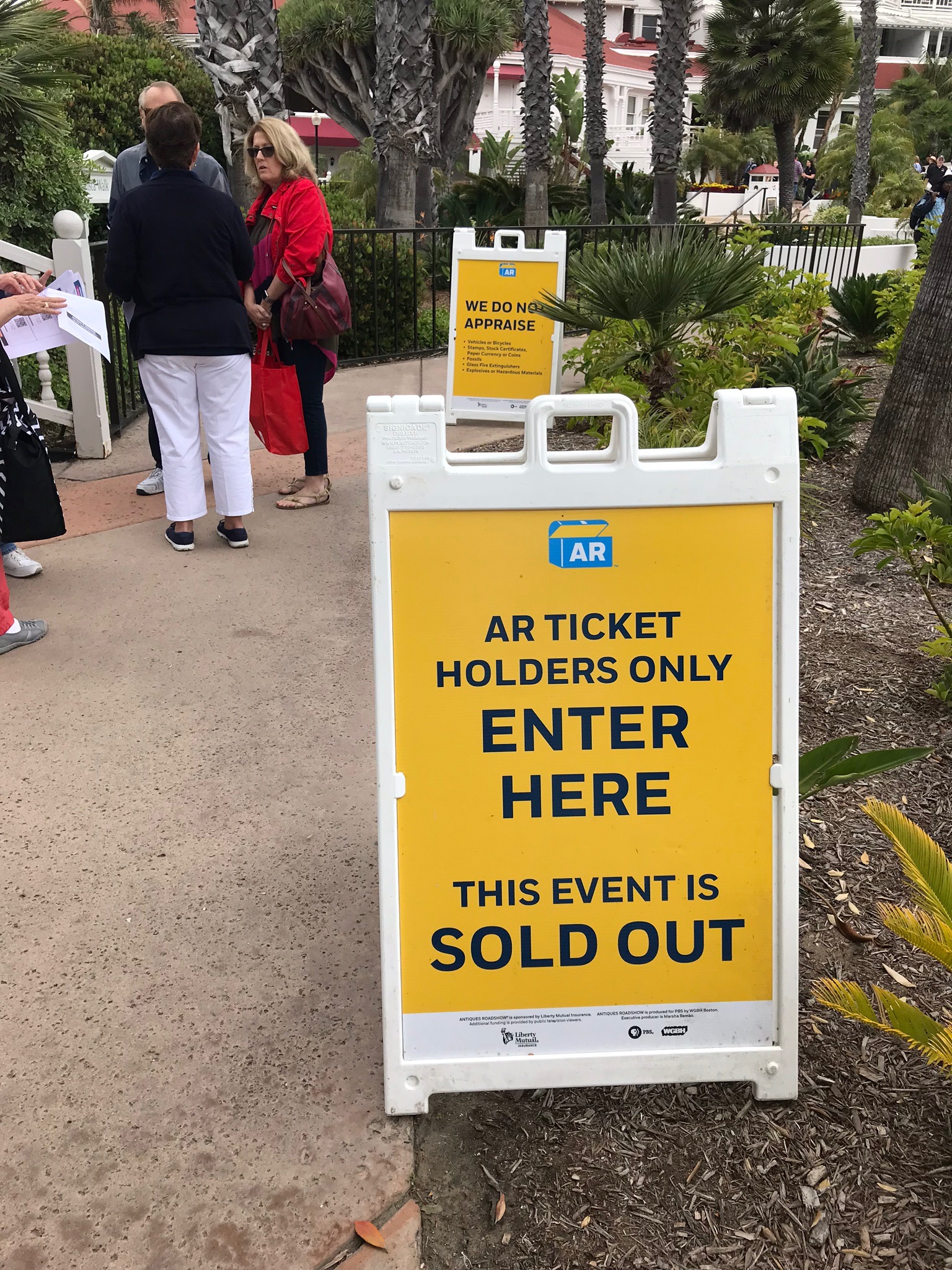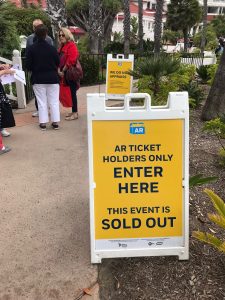 I am a bad listener at times.
Especially, when I think that some action is required from me. I know. Bad listener and self serving! But, over the years, when I have been able to use the excuse, " I don't remember hearing that!!??"
Which leads me to my friend Happy's call and voicemail. Happy is a dear friend from Canterbury Gardens. Happy does more for our community than anyone I know. They couldn't have The Crew Classic in San Diego without Happy!!She wanted me to do something on Tuesday. Fear struck me!! What does she want me to help her do now? Happy is very active and sometimes it takes a village. Something about a Roadshow and I would I like to come? A friend of a friend couldn't go had to work. (At this point is when I stopped listening carefullly) I thought it was a mini Roadshow one of Happy's clubs was putting on. I was wrong. My husband Don told me The Antiques Roadshow in Coronado was the real deal. Happy also called and straighten me out.It was the real Antiques Roadshow. I said YES! Now, what to bring?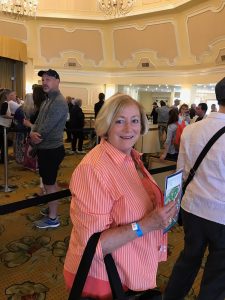 This is not Happy's and mine first experience at the Antiques Roadshow We went in 2001 when it was being held at The Covention Center. That Roadshow was very crowded. The line snaked around The Convention Center and it took forever. I brought an Indian Crow Blanket. I was sure that I had struck it rich. It was orange with flying crows. I cherished it. Over the years I wouldn't let my family use it as a blanket or anything else. I explained that this was their inheritance. Well, I was wrong. Really wrong. Not Indian but Mexican and I probably could still buy the same blanket in Tijuana for 20.00. The Crow Blanket has lost it's status and travels frequently to the beach.
I will do better this time!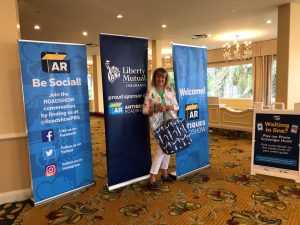 Happy and I arrived early to beat the parking crowds. We took our places in line. Happy had brought two old books and an old blue Chinese Vase that came from a Great Great Uncle's voyages to China. Happy was prepared with documentation. I brought a wrought iron utensil rack that my mother was sure was from the 1700's. Also, I brought a carved fish (had to be Eskimo right?) As a backup I brought a small silver container engraved 1875 and a stainglass makeup jar. (French??) (Possibly, Marie Antoinette's?) I bought it at my favorite thrift store for a few dollars. We were prepared for a great day and great appraisals.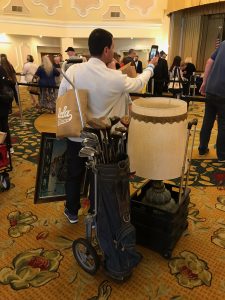 I really think one of the best parts of The Antiques Roadshow is waiting in line. It is so much fun to talk to all the people in line with us. Lots of paintings, mid century furniture, rugs, lamps, statues and closed boxes hiding secrets.. The people seem to fall into two catagories, those who are there for fun and those who take this very seriously. I prefer the fun people! We chatted everyone up around us and wished them good luck with their appraisals.
When we got inside The Crown Room at the Hotel Del Coronado we were divided into item lines. Paintings, Folkart, Books, Antiquities, Asian Arts etc. It takes awhile to make it through the lines but they are filming the show right in front of us!! It is thrilling!!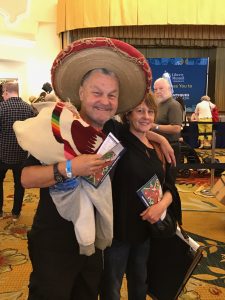 Finally, our appraisals. First off, I want to say the appraisers on The Antiques Roadshow have the patience of saints! I watched them closely. They were so kind, when they told most people their stuff must have great sentimental value but not monetary value They all say this. It such a nice way to tell us that we have junk. Happy did pretty well. Her books were worth about 200.00 each. The Great Great Uncle's Chinese Vase was a 1800's copy of an earlier vase. It too, about 200.00. My appraisals were a mixed affair. The Wrought Iron Utensil Rack was a 1960's reproduction from Mexico.(Again with Mexico) Value: Zero. The carved fish was Eskimo but made for the tourist trade. Value: 20.00 to 50.00. The silver dish was actually a Victorian Spoon Warmer. Value: 200.00 The French Stain glass jar actually was Chinese plique a jour jar and 100 years old! Value: 600.00 to 800.00 Hurray!!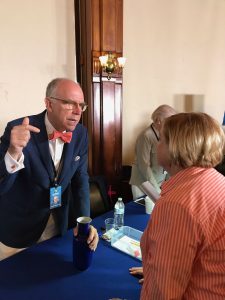 Happy and I finished off at The Feedback Booth which we filmed together was a lot fun. I ended up giving a 15 second interview to NPRRadio and an interview to KPBS Facebook too! The Antiques Roadshow from Coronado will air in January of 2019.
If you have a chance to go to an Antique Roadshow go. It is wonderful! There is a good chance you might have a treasure. If not, they will let you down easy.
I hope I don't look fat on TV.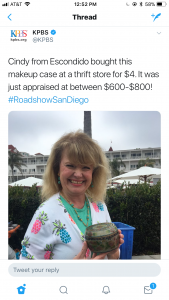 Keep on Junkin'
Cindy
Please follow and like us:
---
---