Thrift Store Shopping Is An Adventure Not To Be Missed!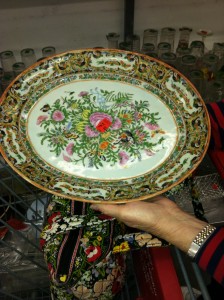 When I decided that I wanted to do a blog on thrift store shopping I looked online to see what thrift stores they suggested on Yelp. I was so surprised to find that none of the thrift stores that I frequent were not listed. Then I said to myself,"You Dummy, of course they're not rated by Yelp because everyone who shops at thrift stores wants to keep their favorite a secret!" Actually, I would rather tell you how old I am and how much I weigh than reveal my favorite thrift stores. I don't need the competition for the goods. Now, don't go rolling your eyes at my blog because I know it is true!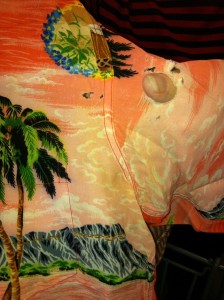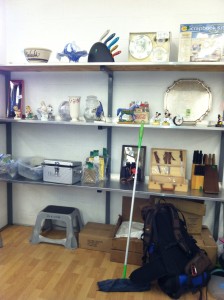 One of my dearest friends at work asked if she could go thrift shopping with me one Saturday. She had never been in a thrift store and wanted to try it out. She usually shops at Nordstrom's and this was a big deal for her. I told her to dress in something comfortable, that she could try on clothes over the top of her clothes. I suggested leggings and flats. Bring a small purse and cash. Many thrift stores do not take checks or credit cards. When we arrived at the first thrift store I opened the door and my friend staggered backwards and squeaked "The Smell" Well, she is right most thrift stores smell like dead people (for obvious reasons) and disinfectant used in gas station bathrooms. This is an adventure!! Of course, there will adversity and the smell is one of them. But, fellow junkers, inside those doors lies treasure. Treasure you did not know you wanted or needed but are so happy to take home. PS bring your smart phone to look up prices online.
I head towards the jewelry first, it usually is in the front in a glass case. Because I am sort of an antique dealer and jewelry freak I carry a loupe to check out the marks on the jewelry. You can use a magnifying glass too. Lots of thrift stores have magnifying glasses for you to use. Just ask. Remember, a lot of great jewelry is not marked. But, remember to look at condition. Make sure it is not broken especially the clasp, they can be tricky to fix. Also, behind the desk is usually where they keep their more expensive stuff. Sometimes it is worth the effort to look at it but most of the time no it is not. I like the cheap goods out in the store. Finding them is the thrill that can't be beat. A lot of the time they keep designer handbags behind the counter too. Most of them are fakes and do not buy them. It is against the law and worse than that it is tacky, really tacky to carry a knock off bag. In a future blog I will interview my niece Megan, who collects vintage Chanel Handbags and works for a very fancy store selling what else? Designer Handbags! She will tell how to spot fakes.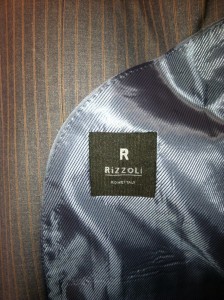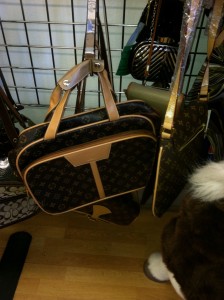 After the front counter I work the perimeter of the thrift store just like the grocery store. Usually, this can be quick and get the layout down. I have a mental list of what I like to look at and you will have yours.  I am looking for things to sell, repurpose and keep. Most of my house has been decorated from thrift stores. There are great and usable goods in these stores. Look beyond the dirt and scuffs and see their beauty. I always look for my family too! My brother collects rock and roll records. I always check those out. My husband loves Hawaiian Shirts. Aloha, I have found some great ones. My girls love cashmere sweaters. No problem, they are out there. My boys collect vintage fishing stuff harder to find but I have found it. My one son collects robots and actually that is hard to find. But, I keep eye out for them though. My older son collects leather bound books and those I have found on a regular basis. After finishing the perimeter of the store I go in to the center.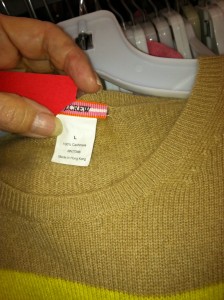 Clothing. The only clothing I will not buy at a thrift store is underwear. Yucky! Well, I might backtrack a little because vintage slips are so damn cute. I went to a very fancy restaurant at the beach and they had framed vintage swim suits on the walls. Fabulous. Yep, they can be found in thrift stores. Look at the men in your life and grab a tape measure and put there measurements in your phone. I keep mine in the pages app. Have you priced a cashmere blazer lately? Not at a thrift store. Remember, it can be altered for a small fee at almost any dry cleaner. It will be our little secret and you will have saved  hundreds of dollars. Look for name brands and where they were made. I am partial to Italy. Don't  have a clue about name brands? Take the time to look at Vogue Magazine and GQ Magazine. There is a reason they are called the fashion bibles. I love hand knit sweaters too. Fisherman Knit sweaters that are from Ireland are expensive but not a thrift store!
Linens. I love vintage linens. I collect vintage pillowcases. So cute. I take my time and make sure they are in good condition. Some stains come out with Biz but some stains don't. I am not that picky but if you are be careful. Measure your table that you get the right size tablecloth. I will write a blog in the future about tablescapes.
Kitchen Stuff. I saved this for last because it is my favorite area. I love dishes. I really love dishes. I have dishes for every holiday. I have bought most of them from thrift stores. You have to be careful with pottery. If it is chipped, bacteria can live in the unglazed chip. Condition is everything with kitchen stuff. Make sure it is food safe. A lot of pots and pans that were coated with teflon has been found to cause health problems. Don't buy them. Don't buy utensils with rust. Yucky. Use your common sense.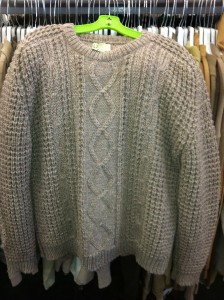 Finally, Thrift Stores do smell like dead people! Get over it! They don't make things like they used to and the things they used to make are in thrift stores. The pictures posted on this blog were all found in one day, one thrift store and I will not be telling you where it is either. Go find your own favorite thrift store. It probably is right around the corner
Next blog the Tucson Gem Show!
Please follow and like us:
---
---