To Buy or Not to Buy is the Question (Vintage Jewelry)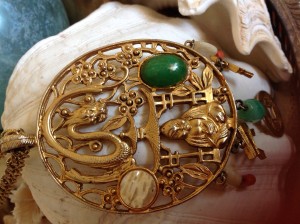 Act One Scene One
Any Estate Sale in America
Actors: The same people you see at every Estate Sale in your town.
7:00 am Saturday
I am in line for a sale that opens at 8:00am. The above actors are in line ahead of me. I beg to ask the question, why can't they miss one sale? Why don't they ever get sick? and most importantly, Why are they in line ahead of me? It was the second cup of coffee. I have to have 2 cups of coffee or I can't function at all. I know I should take a to-go cup but I need both hands at an Estate Sale and not have to use the potty. Most Estate Sales don't like you to use the bathroom. Men can water their tires but women not so easily! We all smile and nod at each other like we are happy to see each other… Total lie of course, we know exactly what each of us buy. The hardest group are professional pickers to have at a sale. They know what they are doing and they are quick. They also have taken the emotion out and concentrate on the value. Pickers are only interested on making money. The next group are Antique Dealers, they sell and collect. A few dealers actually make a living selling antiques but most have jobs and are dealers on the side. The last group is everyone else. The last group is the group having fun….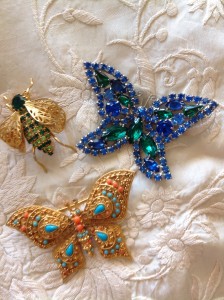 8:00am
The doors have opened and everyone has poured into the sale. The frenzy has begun. people are grabbing everything in site. What to do? What to do? Should I take a quick look around? Or, should I start grabbing things that look good? First thing, ask the person in charge is there a jewelry area? Or a special area for the better things for sale? Usually there is. When I get in the jewelry and I see glass jewelry cases with locks this tells me 2 things. First thing, that a professional estate sale person is running the sale.(Deals will be able to be made easier because they are not emotionally attached to the merchandise) and lastly the cases are salted with the Estate Agents own jewelry that they are trying to sell. Buyer beware!!  Many Estate Agents are also dealers, they are counting on "The Estate Sale Fever"… to unload some old dogs. (Jewelry they have had forever!)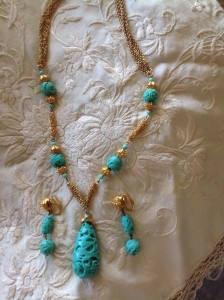 The Estate Sale Fever
We have all had it. If someone says they haven't, they are lying and ask to see in their garage immediately!! You can't know it all! YOU CAN'T KNOW IT ALL!!  Repeat this to yourself over and over again when you tempted to buy something that looks valuable but expensive. There are a lot of fakes out there and a lot of reproductions too. You have to do your homework and learn from your mistakes. Smart phones has made it easier to look stuff up but speed is important at a sale. If you are new to Estate Sales it does help to bring someone with you. (Not your husband) All husbands ask the same questions. First, what are you going to do with that? Followed with why do you need that? And ending with, don't you have one of those already? Leave them at home. I usually bring "Miss Smarty Pants" (Mom). She knows a lot about everything and she is strong… but she has had the fever too.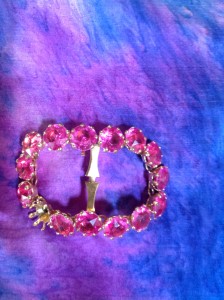 Come prepared
Bring your own bags and wrapping material. I hate admit this but I have broken more things trying to shove them into my car without having them wrapped properly!! I feel so dumb afterwards because I know better. Bring a loupe. If you don't own one bring a magnifying glass. In my case, my reading glasses. I hate the fact I have to use glasses to see but it can be very valuable if I would like to see something.
Condition is everything
Don't fall in love, yet…. Look at it closely. Is it broken? Does it have any marks? Does it have any repairs? In jewelry, does it have it's original chain? Are the stones okay? Have the stones been replaced? Does the clasp work? Put the jewelry on your body. Does it sit right? Does it feel right? Yes to all questions start negotiating the price. If no, let's hold off on our love for a moment.. Can it be fixed? Can you fix it? Are you qualified to fix it? Are you buying it to wear or sell it?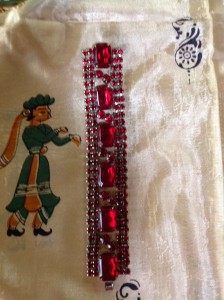 If you are going to wear it or repurpose it I say buy it if you can get a good price. But if you are thinking of selling it on Ebay or Etsy, it has to be as close to perfect as you can get.  The buyers on line are brutal and they know their stuff. You are not going to fake them out with a replaced stone or a sloppy repair. I know, I have been the victim both buyer and seller on line. Only sell your best stuff on line. Your reputation is everything on line and don't mess with it ever!!
Okay We are in love!! Let's buy it!!
I believe it the best way to buy at an Estate Sale is the pile method. They are going to give you more discounts if you are buying more. If you make an offer on something and it is accepted you should buy it. If you don't buy it, they will remember you at the next sale. Remember that you see the same people at these sales so don't burn your bridges. Estate sales are above garage sales, they usually have half off on the last day of the sale. Many times I have made an offer on something at a sale and have left my phone number if they decide to take the offer later. Leave your number on a piece of paper with item clearly named on it. Don't leave a business card, it looks to professional and you won't get that great of a deal. Why this matters, I don't know, it is a quirky thing.
Final Act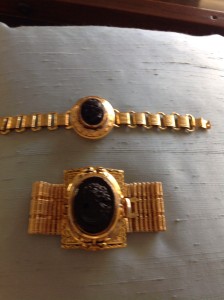 Say thank you when they give you a discount. They will remember you. I have friend who brings donuts to Estate Sales and everyone remembers her!! She always gets good deals too!! So, have fun and I hope you fall in love. My next blog will be at the Tucson Gem Show!! I am so excited!!
Please follow and like us:
---
---