Decorating a Halloween Mantle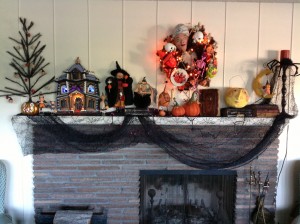 The focal point of most living spaces is the mantle above the fireplace. This becomes a natural place to show off one's holiday collections. As a collector of every holiday, my mantle gets quite the workout. Actually, these days my mantle is getting more of a workout than me! (That's another story.) I live in a California ranch-style home built in 1955. I have a long narrow mantle which makes it a challenge to decorate. When we get ready to redecorate the living room one of the first changes I am going to make is to widen the mantle and install an electrical plug on the top for my wreathes and garlands. I own a wide selection of extension cords. They are too long, too short or the wrong color. It drives me crazy when I have a gorgeous mantle decorated and some weird cord hanging off the side of the mantle which I have to disguise. A plug on the top of the mantle will solve these issues. Note: Every time I ask Don (husband) for an extension cord, he gives a giant orange python-like electrical cord that he uses in construction. Unusable, of course, but he tries to help me. Or, does he offer up the wrong things that I will stop bugging him? Back to the mantle…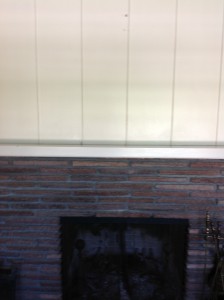 Strip it down to the bones!
First things first. Everything off! Next, clean the mantle. I know it is Halloween but there is different types of spooky. There is artistic spooky and there is dirty bad housekeeping spooky! It is better to start with a clean palette. I have a relative (No, I won't tell) who put spiders on her Easter arrangement that I made her. It was spooky in a bad way. Bunnies, eggs and spiders is a mess and rendered me speechless. Not an easy task. Put away the spring stuff. You probably are not going to need to see it until February at the earliest. (Thanksgiving and Christmas come first.)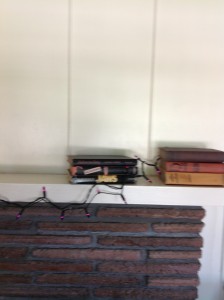 I like to use props. These can be as simple as books as risers or cakeplates also make great risers. What I mean by a riser is something that changes the height of your display or vignette. It can look boring when everything is in a row. Your vignette is supposed to tell a story. This story is Halloween. Halloween means different things to different people, this is my Halloween story. I love folkart and antiques. I love an Americana Halloween. Not scary, well maybe a little scary.
Props
After placing the books as risers, I like to use lights. I love purple lights and blue lights at Halloween because everything is orange and black. The contrasting colors make orange and black POP!! The lights are held in place by being wedged by the books and using blue painter's tape. On top of that I have draped 3 yards of spider netting that I bought at Joann's Fabric. Securing it with tape and the books.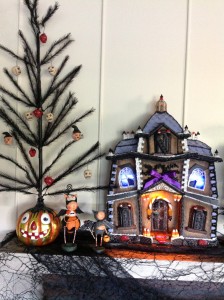 Next, place your focal points. These are the largest items in your vignette or the items which you place the importance in the look. Balance them across the mantle. A good tool is using your phone and taking a picture and seeing if it looks right. I don't know why this works but it does. I used a Halloween wreath I made as my focal point in the middle. I balanced this off with a Halloween Byers carolers house on one side and a candlestick on the other. On the candlestick I draped the netting and topped it with a candle and big hairy spider.
Halloween Ghoolies from Canterbury Gardens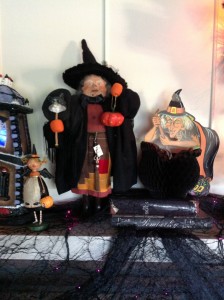 All my vignettes are a work in progress. I am always fussing them until the day of the holiday. I moving the witches around and playing with just like playing with dolls as a girl. In fact, I have made an informal (very informal) survey of friends that love to decorate and we all loved to play dress up and play with dolls. I loved to make Barbie house with boxes and wallpaper them with giftwrap. Fun!!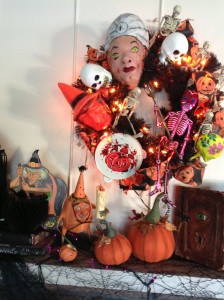 Wreath I made with vintage Halloween
Fill in on your mantle with all sorts of Halloween Ghoolies and pumpkins. This is a fun holiday and it is not just for kids. In fact, I think I love Halloween more than my kids!! Pumpkins are a staple in my fall display and I have beaded and felted pumpkins galore. They will be used in my Thanksgiving mantle next month. (I collect vintage turkeys, blame Martha Stewart and my Mom!!) Time for candy corn and Happy Halloween.
Please follow and like us:
---
---